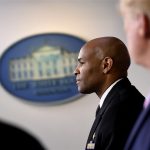 Black health experts say surgeon general's comments reflect lack of awareness of black community
"The Adams statement is, at best, irresponsible and, at worst, reflective of systemic structural racism."
Curtis Bunn
Publication Year: 2020
Read the full article from NBC News, here.
For Dr. Henry Louis Taylor, Jr., a University of Buffalo professor and researcher, there isn't much of a controversy. The surgeon general missed the mark. And it's not what he said, but what he did not say.
"It is irresponsible to talk about the elimination of drugs and alcohol without talking about eliminating the neighborhood-based social determinants that produce drug and alcohol abuse," Taylor told NBC News.
The 'step-up' question does not reflect the realities of black America. It suggests that African Americans themselves are responsible for their plight.
"The Adams statement is, at best, irresponsible and, at worst, reflective of systemic structural racism," Taylor added. "Black people live under enormous stress in places that are service deserts that lack gyms and are not suitable for jogging or even walking. At the same time, alcohol and tobacco companies target these communities. The 'step-up' question does not reflect the realities of black America. It suggests that African Americans themselves are responsible for their plight."