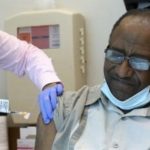 Buffalo's 14215 ZIP code among those Cuomo targets for vaccine push
News Staff Reporter
Publication Year: 2021
Read the full article from Buffalo News here.
With roughly one in four New Yorkers still unvaccinated against Covid-19, Gov. Andrew Cuomo on Monday said the state will attempt to boost the vaccination rate by targeting 117 ZIP codes that have both low vaccination rates and a high spread of Covid with outreach efforts by community-based organizations.
Twenty-five of those ZIP codes are outside New York City and Long Island and include two in Western New York: 14215 in Buffalo and Cheektowaga and 14770 along the Pennsylvania border in Cattaraugus County.