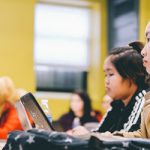 Daring Imagination: Growth in Buffalo and Utica
President's Reflection
President Shirley A. Mullen
Publication Year: 2019
Read the full article from The Houghton College Blog, here.
Houghton's extension programs are intended to serve students who would not otherwise be able to access a Christian liberal arts education, and who would be highly unlikely to come to Houghton's residential campus. The focus on tutoring, language development, mentoring, community support and accountability has resulted in impressively high completion rates (over 80% in both Symphony Circle and Houghton College Utica).
Pierre Michel, a member of the Class of 2011, recently assumed the leadership of the oldest of Houghton's extension sites—Houghton College Buffalo: Symphony Circle. The son of Haitian immigrants, Pierre brings his own life experience to the Symphony Circle site, along with his previous work in leadership roles at two other educational institutions. Thus far, the program has primarily served refugees on the west side of Buffalo.