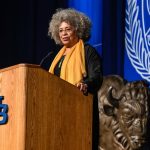 Davis speaks on King's legacy, current social justice landscape
Political activist Angela Davis celebrated the legacy of Martin Luther King Jr. and spoke about social justice issues throughout the world before a large audience in Alumni Arena Wednesday night during an appearance as part of UB's Distinguished Speakers Series.
Robby Johnson
Publication Year: 2019
"Everyone has the potential to become an agent of change," Davis said. "Let us not look up to Dr. King as a man who towered so far above us that we cannot imagine achieving his heights; he was who he was because there were many standing with him who organized the movement while he served as its public face.
"(Dr. King's) greatness resided precisely in his capacity to recognize the contributions of masses of people."
Davis also spoke of her upbringing in Birmingham, Alabama, and her efforts as a leading figure in the civil rights movement. At one point, she painted a picture of her childhood by telling how she resisted with her friends from the Dynamite Hill neighborhood on Center Street, which was racially segregated on each side.