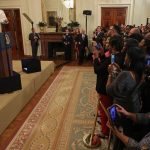 How Coronavirus Affects Black People: Civil Rights Groups Call Out Racial Health Disparities
Disparities Black people face when dealing with the coronavirus could affect everything from voting to being incarcerated to socio-economic status, and more.
Royce Dunmore
Publication Year: 2020
Read the full article from Newsone, here.
The president of Color Of Change, Rashad Robinson, explained:
"This pandemic reveals a terrifying reality — many Americans don't even know if they are infected with COVID-19 because they are scared to go to the hospital and receive free tests and treatment that may saddle them with debt that could take years to pay off. After years of Republicans, big pharma and major corporations fighting against paid sick leave legislation and medicare for all we are left with a crisis where disproportionately Black low wage workers are continuing to support the public without the health insurance or paid time off that would make us all safer."
According to the Bureau of Labor Statistics (BLS), about 29 percent of the workforce was able to work from home. Ninety percent of higher-wage workers received paid sick leave compared to lower-income workers, according to BLS. Just 31 percent of workers with salaries in the bottom 10% were allowed paid sick leave.
Among the working poor, Black workers will witness an even greater impact.