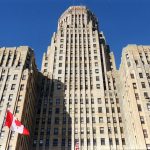 Lottery for $500 monthly checks part of proposal for Buffalo's stimulus spending
Deidre Williams
Publication Year: 2021
Read the full article from Buffalo News here.
"That's a joke: $500 for 1,600 families that are probably making about $15,000 or $16,000 dollars a year?" Taylor said.
Some 68% of African-American residents in the city are renters, along with about 78% of the Latino population and 62% of the Asian-American community, he said, citing census figures.
"These families are faced with two issues: They're paying 40, 50, 60% of their income on housing, and … many of these families, especially those who don't own a car, have almost no money left over to do anything with," Taylor said.