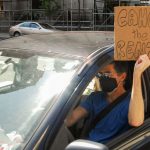 'Mass evictions' on the horizon as US confronts coronavirus housing crisis: Advocates
The pandemic is exacerbating a brewing crisis in low-income communities.
Deena Zaru
Publication Year: 2020
Read the full article from ABC News, here.
The first of the month is daunting for many low and middle-income Americans who will be struggling to pay their rent for the second time since the coronavirus pandemic essentially shut down the U.S. economy.
More than 30 million Americans have filed for unemployment insurance since the COVID-19 crisis hit the U.S. in March, and despite a range of temporary federal and state eviction moratoriums, some Americans are still being served eviction notices amid a public health crisis that requires many people to stay at home.
Henry Louis Taylor, Jr., a professor of urban and regional planning at the University of Buffalo, said that federal and statewide eviction moratoriums are based on COVID-19 timetables that are "too short" and don't consider predictions from medical experts that the pandemic could persist into the fall and beyond, as public health officials have suggested.