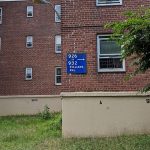 New York's public housing faces a big maintenance and repair bill
"In every city in the country, public housing is in trouble for the exact same reason," Taylor said.
Ashley Milne-Tyte
Publication Year: 2018
Listen to the full story from Marketplace, here.
New York City has the largest public housing system in the country. A lot of that housing is decades old and not in good condition, to put it mildly. New York has a vast backlog of repairs it needs to make to its public housing, but the cost to get all its buildings up to snuff is steep — almost $32 billion over the next five years, according to a recent report from the city's housing authority.
Angel King knows about that backlog first hand. She has lived in a sprawling housing development in Canarsie, Brooklyn, since she was a little girl. It's called the Breukelen Houses, and it was completed in 1952. King still remembers how the complex felt when she and her family moved in in the '80s.
"To us, it was like, 'Wow!' Everything was so shiny, it was so new," she said. "The hallways were always clean."