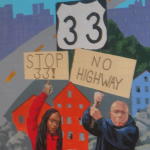 Mural dedicated at Futures Academy
Publication Year: 2015
Children gathered on the front steps of their Buffalo school Thursday afternoon for a ribbon-cutting ceremony to re-name the school.
Futures School #37 on Carlton Street in Buffalo's Fruit Belt neighborhood will now be called the Marva J. Daniel Futures Preparatory School #37. The school is named for Marva Daniel, who spent almost 20 years as principal there. The school district credits Daniel with leading the school's renaissance.
According to a statement from the Buffalo Public Schools, School #37 currently exceeds the state average in testing. It features single gender classrooms, mentoring opportunities, and a partnership with the University at Buffalo in Architecture and Planning.
Following the ribbon cutting on Thursday, children unveiled the large mural they painted with their UB partners in the Art and Urban Studies Departments.