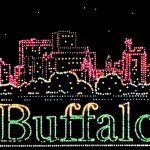 Will Buffalo Become a Climate Change Haven?
The Western New York city possesses a distinct mix of weather, geography, and infrastructure that could make it a potential climate haven. But for whom?
Jeremy Deaton
Publication Year: 2019
Repost from the City Lab
When Hurricane Maria hit Puerto Rico, Maria Robles saw rainfall so severe that it punched a hole through her roof and flooded her home in San Juan. "We lost everything inside the house," she said. "Everything, everything, everything."
Robles may not have known it when she moved in, but Buffalo is unusually well-insulated against climate change. Rising temperatures have yet to produce more heat waves or extreme rainfall in Western New York. Experts say the region's cool climate and ample fresh water could make it an attractive destination as the planet heats up. And Buffalo has room to grow — the city's population has dropped by half over the last 70 years of industrial decline.
Experts expect these facts will drive people to move to Buffalo, and they say the city will have room to accommodate them. Since the population of Buffalo peaked in the 1950s at around 580,000 people, residents have steadily left the city, bringing the current population to around 260,000. As a result, Buffalo has enough land, housing, sewer infrastructure, and water infrastructure to support hundreds of thousands of additional people.
"I heard that line, and I was waiting for something else to come out of his comment, and there was nothing," Vermette said. "There is no initiative by the city. There is no embracing what we've done here. It was just a thing to say."
"If they're rhetorically saying, 'Yes, come here, come here,' I would like to see what's actually happening on the ground," Shandas said. "I think it might be pretty premature for us to be saying that it's an ideal place, in part because we haven't really seen the preparation necessary for larger numbers of people."
For Buffalo to remain affordable and accessible for people like Robles, the city may have to enact smart housing policies to help support climate refugees.
Mayor Brown said that in next year's census, for the first time in decades, the city expects to see a small measure of population growth. Many hope that new workers and businesses will help revitalize the local economy. But a growing population could also present new challenges—the recent
influx of millennials
 has reportedly 
spurred gentrification
 and led to an 
uptick in property values
.
"It isn't just people moving from one neighborhood to another neighborhood. It's a kind of trans-state and, you could even argue, transnational proposition," he said. "You can either get ahead of this, or you can sit back and observe it."
"One of the things that I have said about Buffalo is that they have this 'wide right' mentality," Taylor said. "They have this mentality where they are always kind of there, but never there." The defining feature of the city, he said, is that it never seems to live up to its potential.