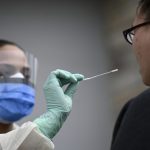 $8M will fund fight against Covid-19 in Buffalo's most 'vulnerable communities'
A broad slate of Buffalo health care providers, faith leaders and community organizations will receive more than $8 million in state funds to battle Covid-19 among the city's most vulnerable residents.
Caitlin Dewey
Publication Year: 2020
Read the full article from Buffalo News, here.
The plan comes after weeks of growing evidence that coronavirus has hit communities of color particularly hard, as well as vocal calls for governments and health care systems to step up more targeted interventions. Five of the seven Erie County ZIP codes with the highest concentration of Covid-19 are predominantly African American, according to an analysis by Alan Lesse, an associate dean at the University at Buffalo Jacobs School of Medicine and Biomedical Sciences.
Health department data also show black patients account for a disproportionate share of Erie County's Covid-19 deaths.
"Black and brown people are scared. They're staying home," said Dr. Raul Vazquez, a physician and health care executive whose affiliated organizations serve thousands of low-income patients in Buffalo. "But the community will benefit from this. That's very important."