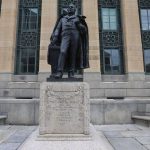 A reckoning: Reconsidering Millard Fillmore's legacy
Statues and building names honoring presidents, explorers and generals, among others, are coming down as their records receive a closer look.
Stephen T. Watson
Publication Year: 2020
Read the full article from Buffalo News, here.
Millard Fillmore gets little love from presidential historians, but he's enjoyed favorite son status in Buffalo for more than 150 years.
That's beginning to change.
The 13th president lived here for years before and after his term in the White House. His fingerprints are on many educational and cultural institutions, from the University at Buffalo to Buffalo General Medical Center, and his name and image are sprinkled throughout greater Buffalo.
Now, Fillmore's signing of the Compromise of 1850 – which included the loathsome Fugitive Slave Act – and his unsuccessful presidential run as a member of the anti-immigrant, anti-Catholic Know Nothing Party are raising questions about his lofty local status.