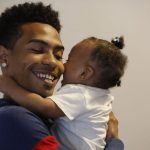 All they needed was a break; Northland is trying to give them one
The training center brings together four organizations: Buffalo Niagara Manufacturing Alliance; Buffalo Urban League; Catholic Charities; and Goodwill Industries of Western New York.
Maki Becker
Publication Year: 2018
Read the full article from Buffalo News, here.
Jaelin Grey was in his hospital bed at Erie County Medical Center last year after being stabbed when he decided he needed to change his ways.
"I felt like a victim. I felt like I wasn't in control of my life," Grey said.
At 20, he had already been in jail. He had been kicked out of high school but managed to come back to graduate. College wasn't an option. He had a steady girlfriend and they had a baby together. He was supporting his family doing handyman jobs on his grandfather's properties but it paid about $13,000 a year. And now, he had almost died after meddling in a fight.
A few months later, he was riding in his uncle's car on their way to a job when they heard an ad on the radio: It was an invitation to apply to the Northland Workforce Training Center, a new school in the heart of the East Side that aims to annually train 300 to 400 people for advanced manufacturing and energy jobs – jobs that would pay $30,000 to $50,000.
Grey looked up the website on his smartphone and applied in his uncle's car.