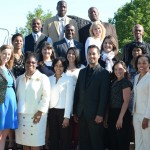 Allstate Minority and Women Emerging Entrepreneurs Program
University at Buffalo School of Management
Re-post from UB School of Management
Creating opportunities for individuals leading minority- and women-owned enterprises into advanced stages of development.
The Allstate Minority and Women Emerging Entrepreneurs (MWEE) program is a joint venture by the UB School of Management's Center for Entrepreneurial Leadership and the UB Center for Urban Studies. The program's mission is to construct a pathway that enables minority and women entrepreneurs to move their companies to the next stage of development. The MWEE program is partially funded with a generous grant from The Allstate Foundation.
The program helps participants:
— Forge relationships with successful business owners
— Learn more about the varied aspects of running a small business
— Formulate clear objectives and outcomes to guide the development of their business plan
— Devise realistic business goals and timetables and develop strategies for achieving them
— Learn about and connect with existing organizations and resources, public and private, that can assist with the development of their business
Participants (protégés) work with a mentor, attend monthly business development seminars and additional networking events, and complete a revised or newly developed business plan. The Protégé of the Year receives the Allstate Minority and Women Emerging Entrepreneur of the Year award and a $1,500 prize.
Who Should Apply
To participate, an applicant must be either a woman or a member of a recognized minority and own a business in the Buffalo-Niagara region.
Application Process
Applicants are encouraged to apply early as it is not unusual for the class to be filled before the deadline.
Learn More
To obtain program fees, request a brochure or learn more, contact the CEL at mgt-cel@buffalo.edu or 716-885-5715.