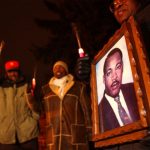 As nation honors King, some local governments ignore the holiday
Thirty-six years ago, President Ronald Reagan signed a law designating the third Monday of every January as a federal holiday honoring the Rev. Martin Luther King Jr.
Stephen T. Watson
Publication Year: 2020
Read the full article from Buffalo News, here.
"It's a battle over symbolic messages," said Henry Louis Taylor Jr., a University at Buffalo professor who studies race and class issues and urban affairs. "The holiday is a symbol and a message that is connected to it. Resistance to that holiday is opposition to that message and everything that it is about."
The effort to make King's birthday a national holiday began days after the iconic African American civil rights leader was assassinated in 1968, according to an account from the History channel.