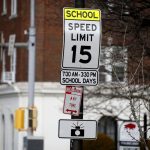 Buffalo's last school zone speed camera shut off
Deidre Williams
Publication Year: 2021
Read the full article from Buffalo News here.
After at least two lawsuits, accusations of a money grab by the city and more than a year of conflict between the Common Council and Mayor Byron W. Brown, the last school zone speed camera in Buffalo has been turned off.
The move followed what Brown described as a "passionate plea" from University Council Member Rasheed N.C. Wyatt in a Facebook post Thursday.