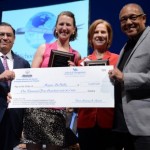 CEL graduates emerging minority and women entrepreneurs
Re-Post From UB – News Releases
BUFFALO, N.Y. — Megan McNally, executive director of The Foundry, has been named Protégé of the Year by the Allstate Minority and Women Emerging Entrepreneurs (MWEE) program, a joint venture by the University at Buffalo School of Management's Center for Entrepreneurial Leadership (CEL) and the UB Center for Urban Studies.
McNally earned a $1,500 prize for the honor. She says the MWEE program taught her important lessons that will guide her work at the Foundry, a business incubator and community space on Buffalo's East Side.
"When running a startup of any kind, it is hard to prioritize competing needs, so learning to rank needs and tackle the most pressing first has been extremely helpful," McNally says.
Levino Johnson, founder and owner of Executive Investigation & Security, was awarded second place and a $1,000 prize. Catrice Huff, founder and director of Up, Up, and Away Child Care Center, took third place and a $500 prize.
The awards were handed out at a graduation ceremony for five CEL programs on June 3 at UB's Center for the Arts.
Sponsored by The Allstate Foundation, the MWEE program helps minority and women entrepreneurs take their companies to the next stage of development with business development seminars twice a month, networking events and one-on-one mentoring.
After entering as protégés last year, 25 participants graduated, bringing the total number of local entrepreneurs who have completed the MWEE program to 205 since it launched in 2004.
In addition to the award winners, the graduates were:
Natalie Apparicio-Farrell, Healthcare Hub LLC; Howard and Sonya Brackett, Preventive Health Care; Milly Castro, Buffalo Key Properties; Esteban Guerrero, In His Hands Electric; Audrey Hall, Eco Serve Pest Services; Laura Haykel, iFlourish Consulting; Tara Jabbaar-Gyambrah, TMJ Consulting; Antoine Jackson, Jani-King and Jackson Development; Danielle Jackson, I Love Catering Buffalo; Melonya Johnson, BSMART Coaching.
Also, Janet Marcel, Paper Trail of WNY; Tirone Mosely, Creative Arizona LLC; Novi Paluch, Sasmita Batik Indonesia; Anna Povetska, Brr-ffalo Clothing & Novelty Co.; James Ray, Celebrities Executive Services Inc.; Jayme Smith, Studio J; Corina Stammworthy, The Laundromutt; Laurie Thomas, Thomas & Sons Janitorial Services; Andrea Veres, The Waxing Studio; Avon White, Eagles Best LLC; and Marcus Wise, 464 Gallery.
Each participant was assigned a mentor from the local business community to help devise realistic business goals and develop timetables and strategies for achieving them. Mentors met regularly with participants, providing advice in strategic and tactical thinking, marketing, long-range financial planning and more.
McNally's mentor, Lynn Oswald, director of the Niagara County Small Business Development Center, was honored as Mentor of the Year.
"Lynn was an amazing resource who helped me cut through the distractions to create a prioritized plan for moving toward the bigger vision of our organization," says McNally. "Working with other businesses from the MWEE program and supporting their growth has helped us grow our own capacity at The Foundry."
The CEL is accepting applications for the 2016 MWEE program. To be eligible, an entrepreneur must be a woman or member of a recognized minority group and own a business in the Buffalo Niagara region.
Individuals interested in the program can learn more about the curriculum and speak candidly with MWEE alumni at an open house from 5:30-7:30 p.m. July 28 at the UB Downtown Gateway, located at 77 Goodell St., Buffalo. To register for the open house or apply, contact the CEL at 716-885-5715 or mgt-cel@buffalo.edu.
The Allstate Foundation, a charitable organization funded by subsidiaries of Allstate Insurance Corp., provides philanthropic grants to nonprofit organizations. With a focus on teen safe driving and building financial independence for domestic violence survivors, The Allstate Foundation also promotes safe and vital communities; tolerance, inclusion, and diversity; and economic empowerment. For more information, visit allstatefoundation.org.
Established in 1987, the CEL provides participants with individualized and interactive education in entrepreneurship. More than 1,200 CEL alumni employ more than 22,000 Western New Yorkers, and their businesses are worth more than $2 billion to the local economy. For more information, visit mgt.buffalo.edu/cel.
The UB School of Management is recognized for its emphasis on real-world learning, community and economic impact, and the global perspective of its faculty, students and alumni. The school also has been ranked by Bloomberg Businessweek, the Financial Times, Forbes and U.S. News & World Report for the quality of its programs and the return on investment it provides its graduates. For more information about the UB School of Management, visit mgt.buffalo.edu.
– See more at: http://www.buffalo.edu/news/releases/2015/06/037.html#sthash.cQ0XWuUs.dpuf