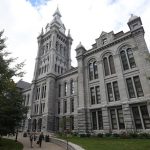 Erie County legislators expect ugly fight before vote on how to spend stimulus money
Sandra Tan
Publication Year: 2021
Read the full article from Buffalo News here.
The Democratic majority of the Erie County Legislature stands poised to approve County Executive Mark Poloncarz's $123.7 million spending plan Thursday, which would take one of the biggest windfalls in decades and use it to boost a variety of infrastructure and community improvement projects, as well as county payroll.
But the Republican-supported minority caucus is gearing up to wage a battle on the Legislature floor. They will push to sidetrack the county executive's spending plan and replace it with a different plan that they say offers more public input.