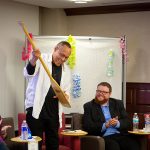 Faculty argue for survival at Life Raft Debate
Robby Johnson
Publication Year: 2019
Read the full article from UBNow, here.
Henry Louis Taylor Jr. won the student vote and shows off his prize: a rowing oar. Taylor's name will be added to the oar, joining those of the previous winners of the Life Raft Debate.
Imagine a worst-case parallel universe where climate change has taken an irreversible toll on the Earth. Instead of the typical weather that Buffalo has to offer, the city now suffers from 200-degree swings in temperature, forcing a small group of surviving UB students and faculty to start a new society elsewhere.
…
Taylor, a professor in the Department of Urban and Regional Planning, said he could help in the creation of an all-inclusive and perfect society, especially after learning from what had derailed the old one. He acknowledged that it could be a pipe dream, but said humans should strive for that, regardless.
"The survivors can and must do better, but this will require imagining a different, but possible world: a society that is more just, equitable and inclusive than the old one. It will require having the capacity and the tools to design, plan and build that ultimate world," he said.
"Urban planning is not only essential; it is indispensable" he added. "My discipline is pre-eminently positioned to play a leading role in building such a just society."