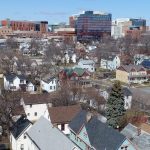 Fruit Belt fights for its name over fears big tech is erasing it
With the growth of the Buffalo Niagara Medical Campus, residents have become even more protective of [the neighborhood's] borders.
Caitlin Dewey
Publication Year: 2019
Read the full article from The Buffalo News, here.
It seems a small thing, at first: a few words on a map. But Veronica Hemphill-Nichols still remembers the day in 2008 when she bought her first smartphone, opened Google Maps, and saw that her neighborhood, the Fruit Belt, was labeled "Medical Park" instead.
First, Hemphill-Nichols convened a meeting with city planners, who said they hadn't requested the change. Then she complained to Buffalo Niagara Medical Campus officials, who said they hadn't done it either. In the 11 years since, Fruit Belt residents and activists have waged a battle against a mysterious digital renaming they see as a potent symbol of gentrification.