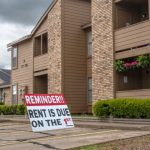 Mass Evictions Predicted as Short-Term Economic Relief Runs Out
Another month, another rental payment crisis for millions of Americans.
James Brasuell
Publication Year: 2020
Read the full article from Planetizen, here.
Henry Louis Taylor, Jr., a professor of urban and regional planning at the University of Buffalo, is featured in an ABC News article about the ongoing risk of mass evictions as the country's millions of renters collides with tens of millions of new unemployment claims across the country.
Taylor said that "federal and statewide eviction moratoriums are based on COVID-19 timetables that are 'too short' and don't consider predictions from medical experts that the pandemic could persist into the fall and beyond, as public health officials have suggested," according to the article, written by Deena Zaru.