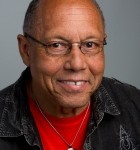 NPR Interviews Center for Urban Studies' Director Henry Louis Taylor Jr.
New Relationship With U.S. Promises Big Changes For Cubans
Publication Year: 2015
Listen to the full interview from Here and Now here.
"However, these potential improvements are not without risk. Here & Now's Meghna Chakrabarti speaks with Henry Louis Taylor Jr., a professor and director of the Center for Urban Studies at SUNY Buffalo in New York, who has visited Cuba every year since 1999 to interview Cuban citizens about life in the country.
He warns that while there are major positives to the deal, it has its negatives as well."