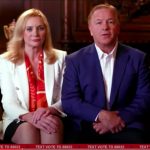 St. Louis couple who aimed guns at protesters makes false convention claim about Joe Biden, suburbs
We contacted the Trump campaign and the McCloskeys' attorney about Patricia McCloskey's claim. We received a brief emailed reply from Mark McCloskey: "Google it."
Bill McCarthy
Publication Year: 2020
Read the full article from PolitiFact, here.
"A Republican National Convention speaker falsely claimed that the Democratic Party under Joe Biden would 'abolish the suburbs altogether by ending single-family zoning.' That's not true. The claim came from Patricia McCloskey, a St. Louis lawyer who, along with her husband, Mark, is facing felony charges for pointing guns at protesters marching outside their home…'This is a red herring, pure and simple,' said Robert Silverman, a professor or urban and regional planning at the University of Buffalo. 'Zoning is a local function in the United States, and the suggestions made in the McCloskeys' speech are patently false.'"