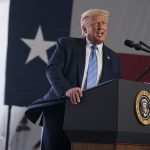 Trump boasts of pushing low-income housing out of suburbs
The connection between the president's denigration of low-income housing and racial segregation was not lost on his critics.
Matthew Choi
Publication Year: 2020
Read the full article from Politico, here.
President Donald Trump is pining for support in the suburbs, and pushing out low-income housing is playing a part in his bid to get it.
In a set of tweets and in remarks in Texas on Wednesday, Trump bragged about his administration's rescinding an Obama-era fair housing rule that was meant to combat housing discrimination. He characterized low-income housing as a detriment to the suburbs and claimed that Democrats were out to uproot and destroy suburbia — a cultural sphere that he equated to the American dream.
"You know the suburbs, people fight all of their lives to get into the suburbs and have a beautiful home," Trump said during a talk in Midland, Texas. "There will be no more low-income housing forced into the suburbs. … It's been going on for years. I've seen conflict for years. It's been hell for suburbia."