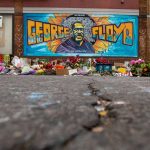 Urban planning as a tool of white supremacy – the other lesson from Minneapolis
Minneapolis, a city still split along racial lines.
Julian Agyeman
Publication Year: 2020
Read the full article from The Conversation, here.
The legacy of structural racism in Minneapolis was laid bare to the world at the intersection of Chicago Avenue and East 38th Street, the location where George Floyd's neck was pinned to the ground by a police officer's knee. But it is also imprinted in streets, parks and neighborhoods across the city – the result of urban planning that utilized segregation as a tool of white supremacy.
Today, Minneapolis is seen to be one of the most liberal cities in the U.S. But if you scratch away the progressive veneer of the U.S.'s most cyclable city, the city with the best park system and sixth-highest quality of life, you find what Kirsten Delegard, a Minneapolis historian, describes as "darker truths about the city."