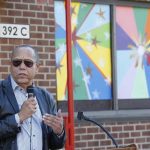 With faculty nudge, can UB lead on social justice?
"For the very first time, we have a significant segment of the UB union faculty that is supportive of an anti-racist activity in the City of Buffalo," said Henry L. Taylor Jr.
Rod Watson
Publication Year: 2020
Read the full article from Buffalo News, here.
A few years ago, University at Buffalo President Satish Tripathi used his annual address to trumpet the UB 2020 strategic plan as laying the groundwork for propelling Buffalo Niagara in everything from health care and the arts to business and industry.
But with that target year now here and bringing a whole new set of issues – or, rather, an acknowledgement of issues that Blacks have long tried to raise – UB's faculty is pushing one of the region's major institutions to take on something else: systemic racism.
In an overwhelming vote a couple of weeks ago, United University Professions – which represents most faculty – passed a resolution condemning "police violence against African American, Indigenous and Latino/Latina residents," opposing "the militarization of police and its impact on communities of color and on peaceful protests," and supporting "reallocation of Buffalo resources from policing toward investment in Buffalo's low-income communities of color."