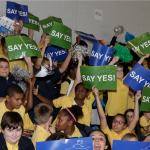 WNY's economic resurgence depends on racial equity, report finds
Sandra Tan
Publication Year: 2016
Re-Post From The Buffalo News
The big players in Western New York must address racial disparities if they want the region's economic renaissance to continue.
Closing the gap of racial inequity will not only strengthen neighborhoods and schools – it will create more money and more jobs.
Those findings are among those in a new report, released Tuesday by a roundtable group formed by the Community Foundation for Greater Buffalo.
The commitment to tackling this complex issue would result in a concrete payoff, according to the report released by the Greater Buffalo Racial Equity Roundtable.
"This is not just the right thing to do," said Community Foundation President Clotilde Perez-Bode Dedecker. "It's the smart thing to do."
Millions spent on social services, health care and prisons could be redirected to job growth, education and recreation.
[Key points from Racial Equity Roundtable report]
Property taxes would grow.
Businesses would have a richer, employable workforce.
The report, titled "The Racial Equity Dividend: Buffalo's Great Opportunity," is grounded in data, showing what is as well as what could be. It comes as a challenge to influential players of this community. It doesn't offer answers, but instead offers motivation for finding solutions that work.

Alphonso O'Neil-White, chairman of the Racial Equity Roundtable, said community activists and nonprofit groups have long criticized the many racial inequities that have plagued the city and region.
"How many rooms have you sat in where people have raised issues, concerns and problems, and there's nobody in the room that can do anything about it?" he said.
The point of the roundtable is to bring together the region's top employers, as well as elected and community leaders, and those who deal with the consequences of racial inequity every day.
More than 30 people – representing government, private businesses, nonprofit agencies, educational institutions and the religious community – make up the roundtable.
That's the only kind of partnership that can yield the type of sweeping changes this community needs, according to O'Neil-White and other community leaders.
"When we look back 10 years from now, Buffalo is going to be a model for how we deal with equity issues," said Samuel L. Radford III, a parent advocate for the Buffalo schools. "This is a top-down, bottom-up movement."
Those who have championed the issue of racial inequity say the Buffalo Niagara region is an example of how a divided region brings everybody down.
"It's a challenge at a moment of time when the nation is torn between two conflicting visions of the future," said University at Buffalo professor Henry Louis Taylor Jr., director of the Center for Urban Studies. "And in Buffalo, we are torn with our vision of the future. We will build a just city, or will we build the unjust latte city, the city for upwardly mobile white folks. That's the choice."

Talking about race and institutional racism is a tricky business.
Business leaders sat alongside government administrators, nonprofit and religious leaders a few weeks ago, trying to parse the difference between the words "equity" and "equality," between "inclusion" and "diversity."
"Equality" means everybody gets the same thing, explained the trainer, Paula Dressel. "Equity" refers to situational fairness.
She used the example of three children of different heights trying to look over a wall to see a baseball game. The tallest kid could see the game fine. The second tallest kid needed a small box to stand on in order to see over the wall. And the shortest kid needed a much bigger box to stand on to see over the wall.
The box represents "equity," said Dressel, who is vice president of Just Partners, Inc.
"Our nation uses equality as the anchor for our narrative," Dressel said. "Equality only works for everybody when we have equity."
The training session, hosted as part of the Racial Equity Roundtable, represents the first step in tackling the issue of racial disparities in this region. It gets all the players understanding a common language when it comes to race and racial inequity. It also gives participants a way of understanding what "institutional racism" means and how it works.

So far, 70 organizations, businesses, nonprofits and government agencies have participated in the training sessions, as well as more advanced ones designed to prepare them for the harder work of addressing racial inequities in their own organizations, Dedecker said.
"When leaders of systems commit to this change, you're going to see things happen," she said.
The model has already seen success in Say Yes to Education, which came to Buffalo five years ago. Aside from offering all Buffalo public school students an opportunity for fully paid college tuition, it also engaged all stakeholders to provide student and family support services to every child that needs it.

Now, the school district is seeing double-digit increases in the percentage of minority students enrolling in college, O'Neil-White said.
The roundtable group, formed with assistance from the Community Foundation 18 months ago, is built similarly to the Say Yes model.
"We didn't come to this group of people and say, 'We've got the answers, we've got the solutions,' " Dedecker said. "These are all multidimensional problems, overlapping, complex issues that we face."
Taylor, at UB, said the report is a challenge for the region's public and private leaders to step up.
"You can run, but you can't hide from this truth," he said. "It comes back to, what are you going to do? The policy makers, the heads of the corporations, they have the power."
More information about the work of the roundtable can be found at www.racialequitybuffalo.org.