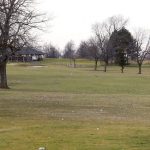 Beneath Amherst's Audubon Golf Course, a long-forgotten mass grave
This potter's field roughly occupied a 2-acre section along Bailey Avenue at Michael Road, just south of what is now a campus child care center and across from Grover Cleveland Golf Course.
Stephen T. Watson
Publication Year: 2020
Read the full post from Buffalo News, here.
It was a secret to all but a few people with long memories in the Town of Amherst.
In 1964, crews working to build a new roadway on the University at Buffalo's Main Street campus dug up several graves. What was all but forgotten was where the remains were unceremoniously reburied.
In two locations on and near Amherst's Audubon Golf Course.
Now, the town is figuring out what to do to give the dead a proper final resting place.
"This is what it is. We have what we have. Now, what do we do, and how do we do it in the right way?" Amherst Supervisor Brian J. Kulpa said.