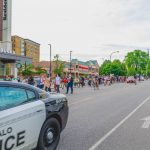 Buffalo's Police Brutality Didn't Start With Martin Gugino
In the past three years alone, Buffalo police have killed four young men of color under questionable circumstances.
Geoff Kelly
Publication Year: 2020
Read the full article from The Nation, here.
According to activists circulating a petition demanding his immediate resignation, [Mayor] Brown has never demonstrated an inclination to change the way police operate.
In fact, those activists say, the opposite is true. Under three police commissioners named by Brown in his 14 years as mayor, the department has instituted policies embodying the specific brand of racism that fuels protests across the country.
Some examples:
§ Setting up police checkpoints in poor, mostly black and Latino neighborhoods, which were discontinued after their constitutionality was challenged in a lawsuit.
§ Raising revenue for Brown's cash-strapped administration by targeting motorists in those same neighborhoods for minor infractions—busted headlights, expired registrations or insurance cards, rolling stops.
§ Creating special units with a reputation for brutality and disregard for the Fourth Amendment.