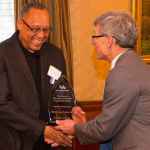 Center for Urban Studies Director Awarded Excellence in University-Community Engagement Award
Sue Wuetcher
Publication Year: 2016
The projects range from rebuilding Buffalo's food system and improving the breast cancer screening rates for inner city women to helping city high school students complete their FAFSA forms and bringing dental care to rural communities.
These community engagement activities, notes Provost Charles Zukoski, "build important relationships and enhance university research and education."
Six members of the UB community working with community partners to realize these and other significant needs in the community are the first recipients of the Excellence in University-Community Engagement Awards.
The awards, created by the UB Engagement Advisory Committee to recognize members of the UB community who are building partnerships with community entities that enhance research, teaching and service, were presented at a reception on Wednesday at the Jacobs Executive Development Center.
The reception was hosted by Zukoski and Mary Gresham, former vice provost for educational collaboration and engagement who retired at the end of the fall semester after 45 years of service to UB. Gresham chaired the Engagement Advisory Committee.
As a public research university, UB is "dedicated to pursuing transformative research and education that respond to local and global issues, and are directly engaged with our communities," Zukoski told those attending the reception.
"Through UB 2020, we are committed to building partnerships in an effort to address community needs while providing faculty, staff and students with rewarding new research and learning opportunities.
"The engagement projects we are recognizing today exemplify this," he said. "In collaboration with community partners, our honorees use research to address direct needs in our community and they enrich our students' educational experience by inviting them to participate in the engagement activities."
Each of the award recipients, Zukoski said, "embodies our mission as a public research university — serving the greater public good through your contributions."
Gresham agreed, noting the efforts of the award winners "have strengthened relationships in the community and advanced UB's public research mission."
She introduced the award winners and offered a brief description of their accomplishments.
The Excellence in University-Community Engagement Award winners, their community partners and the title of their projects:
"Community-University Collaboration on Rebuilding Buffalo's Food System": Samina Raja, associate professor, Department of Urban and Regional Planning, and community partner Massachusetts Avenue Project (MAP).
Raja's research lab, the UB Food Lab, and MAP have collaborated to rebuild and strengthen the food system in Buffalo, and also work together on events to raise community awareness about the city's food system. Last year, they partnered to organize a "Just Food, Just Communities" event that included a public lecture on racial and food justice by noted civil rights leader Shirley Sherrod.
"FAFSA Completion Project": Nathan Daun-Barnett, associate professor, Department of Educational Leadership and Policy, and coordinator of the program in Higher Education Administration, Graduate School of Education, and community partner Say Yes to Education Buffalo.
Completing the FAFSA, a required form for college admission that determines the amount of financial aid available to students and their families, can be daunting. And failure to complete the FAFSA can mean the difference between access to and denial of higher education for a student. The FAFSA Completion Project addressed the problem and implemented a comprehensive strategy — the College Success Center — to help students complete the FAFSA. The project has expanded from one school in Buffalo to 14.
"Mobile Mammography Unit and Underserved Primary Care Practices": Megan Wilson, community research facilitator, Clinical and Translational Research Center, and community partner Deborah Hemphill, Patient Voices Network.
The goal of the project was to improve breast cancer screening rates for inner city women by using a mobile mammography unit to provide on-site screenings at four urban health practices. Recognizing that many women are fearful of mammograms, the project created "patient ambassadors" who would deliver breast health education and help guide the women on screening days. As of last December, the project had screened more than 2,600 women throughout Buffalo.
"S-Miles to Go": Stephen Abel, associate professor, Department of Periodontics and Endodontics, and associate dean for student, community and professional initiatives, School of Dental Medicine, and numerous community partners in Chautauqua, Cattaraugus and Allegany counties.
The S-Miles to Go initiative continues the dental school's long history of addressing the oral health needs of medically underserved communities. This mobile dental unit travels to these communities to provide direct clinical services and health education. Senior dental students serve a rotation with the initiative, gaining valuable experience with rural populations. In some communities, they provide the only access to dental services.
Gresham also recognized senior faculty members Joseph Gardella and Henry Louis Taylor Jr. as recipients of the Excellence in University-Community Engagement Award for Sustained Contributions for having demonstrated "sustained contributions and commitment to university-community engagement throughout their careers."
Gardella, SUNY Distinguished Professor and John and Frances Larkin Professor of Chemistry, has used his research expertise in chemistry to address community concerns for more than 20 years, Gresham said. In 1995 he was the first UB faculty member to modify a course —Analytical Chemistry of Pollutants — to specifically allow students to experience the subject matter in an applied context.
Most recently, she said, he has developed a formal partnership with the National Science Foundation and the Buffalo Public Schools to introduce STEM education strategies to high-needs schools.
Taylor, professor of urban and regional planning in the School of Architecture and Planning, has focused his research on "strengthening undeveloped neighborhoods by improving schools, engaging residents in neighborhood development, developing entrepreneurs, improving the delivery of health care services, and by designing and planning these communities to support this agenda," Gresham said.
For example, Taylor's "Community as Classroom" project, in partnership with Futures Academy, has worked with more than 1,000 children, teaching them how to use their classroom lessons to solve neighborhood development problems.