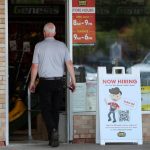 David Robinson: Buffalo Niagara worker shortage slows the Covid-19 recovery
David Robinson
Publication Year: 2021
Read the full article from Buffalo News here.
That's worrisome because it's a sign that the low-hanging fruit in the recovery has been pretty much picked. And we're still down about 30,000 jobs from where we were in June 2019, so the recovery is far from over.
Now that the economy is operating without many Covid-19-related restrictions, it is the more difficult structural issues that are holding back the recovery.