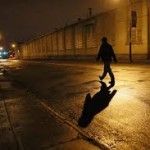 Early risers work to make ends meet
Buffalo News
By Melinda Miller
April 4, 2015
---
Aiesha Randle leaves for work by 6:30 a.m., but she doesn't worry about waking her husband. He has been at his job for two hours by then.
Curtis Flakes sees neighbors getting ready to leave when he walks to work for his 5:30 a.m. start time as a supervisor at a Grider Street linen facility.
And Clyde Dixon and his wife run a small day care in their Leroy Avenue home, where the first children arrive a little after 5 a.m. Then between 6 and 6:30 a.m., Dixon drives around picking up other children whose parents also work early.
They are among the hardy early-to-work residents in the Buffalo Niagara region. But they're not alone among their neighbors in the Leroy and Delavan-Grider neighborhoods, where a higher share of residents leave for work before 7 a.m. compared to other neighborhoods, a Buffalo News analysis of census data shows.
Flakes' neighborhood, near the old Central Park Plaza site, stands out for how many of its residents head to work before most of us. Nearly one-half of the workers who live there leave home between 5 and 7 a.m. That's the highest percentage of any census tract in the two counties and twice the region's overall rate. Only Buffalo's Fruit Belt neighborhood rivals that percentage, with some 45 percent of its residents leaving for work so early.
"It's part of the job," Flakes said. "Early bird, you know."
As Flakes heads to work, he sees nurses and bus aides also leaving for their jobs, along with a cab driver and a school teacher in the neighborhood.
"It's a very hard-working neighborhood," said Flakes, 35.
It's also a poor one, where nearly 40 percent of the residents live below the poverty level.
The four neighborhoods with the region's highest concentrations of workers leaving for work between 5 and 7 a.m. are considered poverty areas by the federal government.
The work schedules alone for many in these low-income neighborhoods should dispel any notion they aren't committed to working.
"I hope so, because it's my experience that people who live in these neighborhoods are the hardest workers, and they get the least reward," said Henry Louis Taylor Jr., a professor in the Department of Urban and Regional Planning and founding director of the Center for Urban Studies at the University at Buffalo's School of Architecture and Planning.
The other areas where people tend to leave for work early are outlying towns, like Wales, Holland and Sardinia in Erie County and Hartland and Newfane in Niagara County. None of these towns has high poverty rates. Longer commute times for residents in these towns with jobs in Buffalo and Amherst likely explain why many of them leave for work early.
The highest concentrations of early-to-work residents live in African-American neighborhoods with many holding low-wage jobs, Taylor said.
"Their jobs tend to start early," he said.
Taylor said at times he arrives at his campus office as early as 7 a.m. – and the janitor is already there working.
"They work hard," Taylor said.
'Nature of the job'
Clyde Dixon wakes up by 4 a.m. every day in his Leroy neighborhood home.
"I pick them up and I take them home," Dixon said of the day care children.
Although his wife retired and he had knee replacement surgery, they started caring for a few children once he was back on his feet.
"We had to help people with their kids, so they can get to work," Dixon said.
With five grandchildren and three great-grandchildren himself, he added, "We like kids anyway."
Most of the full-time jobs with shifts outside the traditional daytime schedule are in service sectors, held by those like police officers and firefighters, food service workers, nurses and bus drivers.
"There are positives in these schedules and there are negatives," said Jessica Houston Su, an assistant sociology professor at the University at Buffalo, who has done research on people who work early. "Generally, for working class jobs, it tends to be negative."
Su studies people who work early, overnight and on weekends to see how their work hours affect their lives, families and health.
Those who work these types of schedules tend to fall into two groups, she said.
"There are the skilled workers – nurses, doctors and such – who have a different relationship with night work than employees in lower-paying jobs," Su said. "For some of them, (these shifts) are a way to strategize their child care schedules, to ensure someone is always home, even if they are sleeping. It's called tag-team parenting and it solves problems of child care cost and availability. However, it also can be bad for marriages."
For many low-wage, early-shift workers, however, the hours are just the nature of the job, Su said.
"In a 24/7 society, we're expecting people to be available for those shifts, and it has exploded as a part of the working-class experience," she said.
Among workers who live in the region's 200 nonpoverty census tracts, almost one-half leave for work between 7 and 9 a.m.
But among workers who live in the region's 23 highest poverty areas, just more than one-third leave between 7 and 9 a.m. A higher percentage of workers in the poor areas leave for work before 6 a.m. or between noon and midnight, according to The News' analysis of newly released census estimates.
"The higher-paying jobs have more favorable work hours," Taylor said.
For those with lower-paying jobs, "you have a lot of challenges, and one of these is getting up early in the morning," Taylor said.
Workers whose shifts vary from week to week are the most vulnerable, Su said. Mixing early, late and overnight shifts – common in food service and health care positions – is disruptive in several ways.
"It throws off their circadian rhythms, so they get less sleep," Su said. "Then there are potential long-term health consequences. You're always in this kind of jet-lagged state."
Workers with a regular schedule, even if it's early, fare better, she said.
The weather effect
Randle loves being a nurse, and she has worked the early shift for at least eight years.
Workers like her could not be happier for the arrival of spring – even as cold as it has been.
This past winter pushed the predawn starts for her and her husband to even earlier hours as they navigated snow-clogged streets and subzero temperatures.
"He's the one that has it the hardest," Randle said of her husband. "We literally had to get up in the middle of the night to shovel to get him out. It takes a toll on you."
Like many who leave for work before others are awake, Randle has a job in the health care sector that runs on eight- and 12-hour shifts that often start at 7 a.m.
She lives a couple of blocks from the Grider neighborhood with the highest concentration of early-to-work commuters. Most in the neighborhood – around 80 percent – have jobs in the private sector, making an average of between $12 and $13 an hour.
In the Leroy neighborhood near Kensington Avenue, where almost half of the residents head for work between 5 and 7 a.m., the median wage is $25,708 annually, according to the Census Bureau.
Randle said she sometimes helps younger co-workers who don't own cars.
"There are a couple of aides I work with who live in the neighborhood," she said. "With the weather so bad, (Metro) stopped some of the bus runs, so I would give them a ride," she said. "The weather really affects people who depend on public transportation. They otherwise have to depend on cabs. Then, when it was so cold, there were no cabs either."
"The weather has a profound effect, especially for health care professionals," Randle said. "We can't stay home."
Nikki Hicks, who works for BlueCross BlueShield of Western New York, travels among health care facilities collecting data.
She gets up at about 5:30 each morning and is on the road no later than 6:45 a.m.
She's glad to see the end of the brutal winter, too.
"The thing is, I'm not alone on the road," Hicks said. "There is traffic out there (before 7). I'm not the only one."
Like what you do
Brighter and warmer days mean more sleep for some of the early risers.
Hicks said that, in the winter, she might get up as early as 4 a.m. if she expects weather to be a hassle.
But once summer arrives, she sleeps a little longer. In addition to her "day job," she works as a home care nurse, taking care of children with tracheotomies and gastrotomy tubes. And, once in a while in the evenings, she enjoys pursuing her other career, performing as a singer.
"I've dialed that back," she said. "Knowing that I have to be up so early in the morning – well, it's not pretty."
As with any job with any kind of schedule, the early risers generally agree that the healthiest kind of work is work that they like to do.
Randle wouldn't trade her early shift at a nursing home.
"I like working early because you get more interaction with the residents. You have more one-on-one," she said. "There's more sociability during the day – you really work with the people. It gives you a chance to fulfill your career goals."
And there's another plus.
"When it's busy, it goes quickly, and half the time, you look up and your time is gone."
Flakes, the supervisor at Clarus Linen Systems on Grider Street, said his early shift means "you get off early."
He grew up in a household where he always had breakfast waiting for him early in the morning.
So waking up early now poses no problem for him. In fact, he said he gets up every morning in his Montclair Avenue home without an alarm clock.
The one drawback he cites for his early shift?
It can be hard to find a place that serves anything but breakfast at 10 in the morning, which is his lunch break.
"It's still breakfast everywhere," he said. "You can't find a hamburger."
email: mmiller@buffnews.com and plakamp@buffnews.com