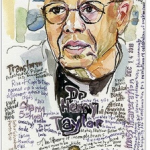 Exhibit highlights those working for better health
"These portraits are about hope; they show a dreamscape of social change"
UB Now Staff
Publication Year: 2019
Read the full article from UBNow, here.
"The Future of Health in the City," a new exhibition presented by the UB Art Galleries that highlights individuals working together to bring better health and healing to the Buffalo community, will open on Oct. 8 in the Connect Gallery at the Conventus building with a public reception from 5-7 p.m.
The UB Art Galleries is presenting the exhibition of portraits by artist Charmaine Wheatley in partnership with the University of Rochester Medical Center and in collaboration with the Buffalo Niagara Medical Campus Innovation Center, the UB Center for Medical Humanities and Restoration Society Inc.
"These portraits are about hope; they show a dreamscape of social change," said Henry Louis Taylor Jr. director of the Center for Urban Studies in UB's School of Architecture and Planning and another of Wheatley's subjects. "They are about the possibility of building a future city where well-being and wholeness reign."