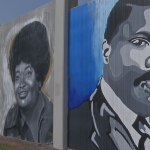 Freedom Wall honors past and present African American leaders
Kelsey Kaufmann
Publication Year: 2017
Re-post from Wivb News
BUFFALO, N.Y. (WIVB) — Four Buffalo artists are bringing new life to Buffalo's east side, honoring 28 civil rights leaders.
On Sunday, the Freedom Wall at the northern entrance to the Michigan Street African American Heritage Corridor was unveiled.
Its finally finished after about 7 months and a big crowd gathered to celebrate Sunday.
The faces in the mural are a mix of national and local leaders.
The Albright Knox says the mural is an opportunity to teach American history both past and present.
"This wall is about the education of the African-American people and the people of this city and nation. This is about attempting to understand the history of African Americans and their fight for liberation and freedom," said Dr. Henry Louis, professor at the University at Buffalo.
You can check it out at the corner of Michigan Avenue and East Ferry.