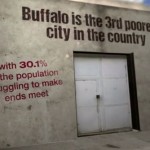 Professor calls poverty "systemic racism" in Buffalo
Nalina Shapiro, News 4 Anchor
Publication Year: 2016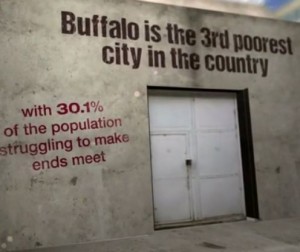 Re-Post From WIVB
BUFFALO, N.Y. (WIVB) – Leaders in Buffalo love talking about the city's renaissance. Progress is on display in certain places but the fact is, Buffalo is still the 3rd poorest city in the country, with 30.1% of the population struggling to make ends meet.
News 4's Nalina Shapiro wanted to help us understand how some neighborhoods, like the east side, ended up the way it did. This story fill books. It's a complex issue and it's not easy getting answers from leaders but two two professors and one young man helped us understand Buffalo's history and what changes still need to be made.
We met 14 year old Razhon Harris while he was doing yard work near the Broadway Market. He told us he wants to make an impact.
"Right now I'm helping my grandma with some grass, planting some grass for her," said Harris.
A few feet of new grass might not mean much to you but it represents something much bigger for Harris. He lives in one of Buffalo's poorest neighborhoods on the east side.
"Well it adds property value to the houses and it attracts some people over here," Harris told us while he was planting the seeds.
Not nearly enough people are investing in the east side. One problem has to do with home values, which are low. The average price of a home sold on the east side went for $37,426, according to data sent to us by Emily Cornwell, a licensed real estate agent with Nothnagle Realtors. If you take a quick ten minute drive to North Buffalo, the Elmwood, Allentown and downtown areas home prices range from $128,000 to more than $500,000. The west side is also making a comeback with home prices valued on average at around $123,546. South Buffalo home prices are also lower, on average between $68,000 and around $85,000.
Still, the east side has the lowest home prices and some of the most empty structures. The area by the Broadway market has the highest rate of vacant houses in the city, 1,704 vacancies among 6,471 units according to Buffalo Business First.
"See my family, our house used to be abandoned but then we fixed it up and now it looks beautiful," said Harris.
That's just one family. Not everyone can afford to do that or wants to do that since home values are so low. Harris said the community needs more help.
"It's like a war zone over here, when they're spending money, our taxpayer dollars on certain stuff that doesn't help everybody it's only helping certain people," said Harris.
If a 14 year old can tell you that, you would think leaders in Buffalo know investing in home ownership is one key to turning a poor neighborhood around.
"So they know they know they chose to do something differently," said U.B. Professor Henry Louis Taylor.
Professor Taylor says choices city leaders made created the current state on the east side.
"It's pure racism, systemic structural racism," said Professor Taylor.
The pictures tell the story. If you drive by the waterfront and the medical campus it's a completely different story than what's being told on the east side, a predominantly black community.
"Buffalo rising and African Americans falling," said Professor Taylor. "And people will say well how could that happen in a city managed by blacks and controlled by blacks and our answer is simple, black faces in high places don't mean a thing if they have the same agenda as white faces in high places," said Professor Taylor.
Building new, forgetting about the old and pushing people out into the suburbs is what Professor Taylor thinks will continue to happen unless more private sector money is invested into areas like the east side.
We asked Harris what his message is to the Mayor of Buffalo and other city leaders, to which he replied, "spend some more money over here, you only did a couple streets and these pots holes over here is crazy," said Harris.
Historians will tell you east side roads started crumbling when new roads like the 33 and Scajaquada were built, to draw people to the newly developed suburbs in the 1950's. That created a huge housing vacuum. People moved to the suburbs and left the east side homes empty.
"So, lots of absentee landlords and it led to a rent problem for homeowners and they couldn't find renters so it led to high arson rates in communities like this," said Buffalo State Sociology Professor Eric Krieg.
We spoke with him on a deserted Broadway looking in the distance at a blossoming downtown Buffalo.
"It's an interesting place because there is hardly any traffic on Broadway and a lot of empty lots and buildings that need a lot of repair," said Professor Krieg.
"I would like some more parks that are child friendly, because there have been a lot of shootings over here and it would be safer if there was more child friendly places over here," said Harris.
While Harris said the city needs to help more he also added more young people like him need to step up.
"Some of the non lazy ones need to come outside and do some work instead of hanging around doing stuff that don't matter," said Harris.
Children can't control where they're born, but Professor Taylor says leaders can either continue to build what he calls a "latte city"  to attract only a certain type of business professional, or create a city that works to understand everyone's diversity.
"What if happy talk was all over Buffalo not just in a few places, imagine what an awesome city that would be," said Professor Taylor.
We reached out to the City of Buffalo June 6th when we began working on the story. The mayor just responded on July 11th.
"The city has spent significantly more on the east side of Buffalo than it has spent in Canalside. In fact the spending in Canalside is largely private sector spending and that is what is driving the spending we see at Canalside," said Mayor Byron brown. "Figure in a 10-year period of time those numbers are well in excess of $300 million dollars on the east side of Buffalo."
Mayor Brown says just recently Sinatra Development agreed to invest $20 million dollars at 1160 Jefferson street on the east side to create a mixed income mixed use space with apartments, retail space and a health center.