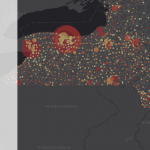 The cost of suspending driver's licenses
Since the 1990s, state legislators have cracked down on suspended driving: increasing criminal penalties, as well as expanding the number of ways the state can suspend drivers' licenses and the fees that go along with them.
Marsha McLeod
Publication Year: 2019
Read the full article from Investigative Post, here.
The laws are making criminals out of tens of thousands of residents and straining court systems; yet in the case of debt-related suspensions, several experts said they provide little to no public safety benefit.
"We are taking people who are already on the economic edge, we are criminalizing them and increasing the burdens and hardships on their lives," said Henry Louis Taylor Jr., a professor who studies race and class issues at the University at Buffalo.
Each year, a torrent of people with suspended license charges wind up in Buffalo City Court, clogging up judges' dockets and bogging down public defenders.