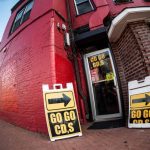 Black Businesses Left Behind in Covid-19 Relief
The latest U.S. coronavirus aid package promises a partial and uneven economic recovery that leaves behind the African American community.
Natalie Hopkinson and Andre Perry
Publication Year: 2020
Read the full article from CityLab, here.
Social distancing is not new to black communities. "Social distancing" in the form of anti-black segregation and discrimination was U.S. law throughout the 19th and 20th centuries. This created racial wealth disparities that have lingered, negatively impacting black people's capacity to start and maintain businesses. The remnants of federally backed redlining practices, which financially isolated black people throughout the 20th century, throttled the amount of wealth black people could create from homeownership. Most entrepreneurs start businesses with the equity they've accrued in their homes. Consequently, black people, who've been over-burdened by American economic policies, require a different kind of stimulus in this coronavirus scourge era.
The Coronavirus Aid, Relief, and Economic Security Act (Cares) package is an attempt to offset an impending recession caused by mandated and voluntary social distancing, which will last until at least April 30. Congress should also pass a relief package for people who've suffered from the de jure and de facto social distancing of racial segregation, which still sets African Americans apart from white people today on both a spatial and economic basis.