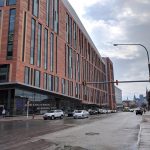 Conference aims at health disparities in Erie County
Avery Schneider
Publication Year: 2018
Re-post from Wbfo News
The Jacobs School of Medicine and Biomedical Sciences on Main Street will host the Igniting Hope conference.
Some of the largest disparities in health in Erie County are happening in the City of Buffalo. A public conference this weekend aims to start trying to fix them.
14204, 14206, 14211, 14212, and 14215 are the five zip codes that suffer from the some of the worst disparities in health in all of Erie County. They cover most of Buffalo's East Side and a portion of its First Ward – neighborhoods heavily populated by African Americans.
Zip codes experiencing the worst health outcomes in Erie County.
CREDIT: GIS MAPPING ERIE COUNTY/TASK FORCE ON HEALTH CARE DISPARITY IN THE AFRICAN AMERICAN COMMUNITY, JUNE 2015
Health disparities in the African American community are what the Igniting Hope conference aims to take on.
Pastor George Nicholas of Lincoln Memorial United Methodist Church, the conference's convener, said it will be a first step towards changing the "traditional" narrative around health disparities and race.
"The immediate response has been focusing on the behavior – you know, eating of fried foods, lack of exercise, and all those things," said Nicholas. "And while those are factors, the data shows us that there's other factors – social determinants – that actually play a greater impact on the health of African Americans."
Economy, environment, health services, education, and social support networks will be among the topics discussed. The goal is to help members of the public, the medical field, and thought leaders in the community understand what's driving health disparities.
Nicholas hopes those who turn out for the event will answer a call to action.
"Can we truly say that this region is in a renaissance or in a revival when we have this entire community here that is suffering from some major health problems, and we're not responding properly to them," asked Nicholas.
The conference is a joint effort between Millennium Collaborative Care and the University at Buffalo. For the school, it's a chance to show what its researchers can do, and the precursor to sending them out into the community to do it.
Timothy Murphy, Director of the Clinical and Translational Science Institute at the school, said they aim to bridge the gap between minorities and research which stems from a historic lack of trust.
"If you look at all of the people nationally who participate in clinical studies, less than ten percent are under-represented minorities," said Murphy.
"People who participate in clinical research, they have better health outcomes, they have more cost-efficient care, and surveys show they are more satisfied with their care."
The conference is free and runs from 8 a.m. to 4:30 p.m. Saturday inside the Jacobs School of Medicine and Biomedical Sciences at 955 Main Street. More information is on the Millennium Collaborative Care website.