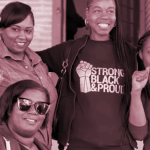 Fighting gentrification and displacement: Emerging best practices
The continued struggle of Moms 4 Housing is worth paying attention to; it is a testament to both the real-world legacies of racist housing inequity as well as the tactics that communities are using to fight back.
Juliana Broad
Publication Year: 2020
Read the full article from The Next System Project, here.
California's Bay Area is home to one of the country's worst housing crises, where despite soaring rents there are still far more empty homes than unhoused people. In late January 2020, a group of unhoused mothers—organizing under the name "Moms 4 Housing"—took matters into their own hands, occupying a home in West Oakland that had been vacant for two years. Despite their violent police eviction, the moms had overwhelming community support and media attention. Their occupation and organizing resulted in a historic win not only for the right to housing but also for a burgeoning strategy that communities are using to combat decades of racist housing policies, displacement, and gentrification.
The property's absentee landowners, Wedgewood Properties, agreed to sell the home to the Oakland Community Land Trust, a nonprofit that buys land to maintain permanent affordable housing for low-income communities.
Though there is sometimes disagreement about how to define and measure displacement and gentrification (with some pompous claims that it's not even a bad thing), the public and private strategies of disinvestment—which have long incubated the concentrated poverty experienced by communities of color—are undeniable: redlining, exploitative financial practices, white flight, tenant harassment, and predatory housing courts have resulted in the structural racism that undergirds our nation's housing crisis.