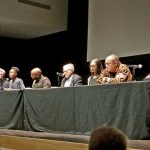 Paladino has his say on race at 'Blackness Project' forum – then vows to listen
Harold McNeil
Publication Year: 2018
Re-post from The Buffalo News
Carl Paladino said his piece during a forum on race Friday at the Burchfield-Penney Art Center.
But he chose to listen more, instead.
The former Buffalo School Board member, founder of Ellicott Development and past gubernatorial candidate was part of a seven-person panel that talked before some 200 people about America's long and complicated history with race, following a screening of "The Blackness Project," a new documentary by Buffalo filmmaker Korey Green.
The feature-length film offered a variety of thoughts on culture and race from a local African-American perspective.
The film, which was a 2 1/2-year long project, was inspired by a 2014 film called "The Whiteness Project," that explored some Buffalonians' takes on race, discrimination and racism.
"You are so important to this community, all parts of this community," Paladino said, of the filmmaker.
"You've illustrated with this piece here, this wonderful piece that showed the many faces of an issue that is a dilemma for all, everybody," Paladino said.
"That listening showed us where you come from, that maybe we should listen a little bit more instead of talking. We tend to talk in the moment," Paladino said.
"We tend to talk about a brutal situation of a policeman shooting a kid, and you showed it. And there was an immediate reaction to it. And then there's reality. That little girl, she said that she doesn't believe in victimhood, but we talk victimhood. How many people said they don't believe in hate? But we talk hate. We teach black history in our schools. Why? Why do we have to teach black history. Why don't we teach American history?" Paladino said at one point.
Paladino has been a lightning rod for frank discussions of race in Western New York, including in the aftermath of an interview he gave to a local publication which contained inflammatory remarks about the Obamas.
"Race and racism is not some mistake that they made. Race and racism was invented in the very fabric of the country," said Dr. Henry Louis Taylor, a faculty member in urban and regional planning at the University at Buffalo.
"We could not know the United States as it exists today without slaves. Without slavery, there would be no United States. Slavery was a huge industry that built this country, and cotton was the primary product. Following slavery, it was necessary to again rely on black labor," said Taylor.
"Race is inescapably linked to the economy. It's not something related to how I feel or how I love you," Taylor said.
"We clearly understand what we want to do with race, because it is connected to the very ways in which we do things," he said.
Larry Quinn, a Buffalo School Board member and panel member, recognized that discrimination exists, but said he had trouble with other aspects of the issue.
"I don't see the United States or even our local governments – yes, the southern government up until maybe recently – having a built-in mission of discrimination. I don't see it anymore in this country. I think if we're going to get past this, I think we have to get past the idea that there is a force in the country that wants to subjugate you," said Quinn.
Paladino at the session addressed why he served on the School Board.
"I joined the Buffalo Board of Education for only one reason, because I got fed up with the leadership that I was seeing in charge of making decisions and doing the same thing over and over again and denying thousands and thousands of unfortunate city kids trapped in a municipal system that doesn't work," Paladino said.