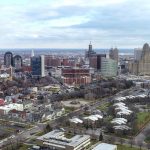 Rising home values: As investors cheer, low-income owners despair
Residents of a number of neighborhoods saw assessments jump far above the citywide norm, and many say they've considered selling their homes to avoid tax delinquency or foreclosure.
Caitlin Dewey
Publication Year: 2020
Read the full article from Buffalo News, here.
Like hundreds of other low- and fixed-income homeowners in fast-appreciating neighborhoods, the Howells fear they can't keep pace with the speed or the scale of the reassessment. The project, which concluded in September and will hit city tax bills next July, logged steady growth in most neighborhoods, though some parts of the city saw no real appreciation, and others experienced staggering spikes.
Average assessments spiked most dramatically on the West Side, a Buffalo News analysis of more than 60,000 preliminary assessment records shows. They increased by as much as 272% on the blocks south and west of Symphony Circle, raising property tax bills by hundreds and even thousands of dollars.
Residents of a number of traditionally working-class and mixed-income neighborhoods, including Allentown, the Fruit Belt and Elmwood-Bryant, also saw assessments jump far above the citywide norm, hiking tax bills, escrowed mortgages and rents. Citywide real estate values grew at four times the rate officials predicted in 2015, according to The News' analysis.