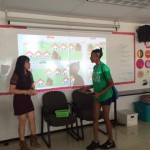 Students tackle urban renewal at summer camp
Eileen Buckley
Publication Year: 2016
Read the full article from
WBFO
here
.
UB Center for Urban Studies is hosting its 4th annual Summer Academic Camp. The camp is designed for middle school students.  WBFO's Eileen Buckley reports the theme is neighborhood development.
More than ten students are gathering in a classroom on the University at Buffalo's South campus at the Hayes Hall Annex through mid-August for this Academic Camp. They're learning about "Transformation of the Visual Landscape'.
"In many of the east side neighborhoods, the visual landscape is harmful in the sense that it depicts an image of decay, deterioration, neglect and a sense of hopelessness — that is — that you can do nothing about it," said Dr. Henry Louis Taylor, Jr., Director of UB's Urban Studies program.