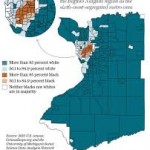 Tackling the region's racial divide
Buffalo Niagara remains one of the most segregated metro areas, but the new federal housing rule intends to change that
Jerry Zremski
Publication Year: 2015
Re-post from the Buffalo News
WASHINGTON – The Obama administration Wednesday embarked on the federal government's most proactive effort ever to reduce housing segregation in places such as Buffalo, the nation's sixth-most segregated metro area.
But the new federal desegregation rule – which will require communities to consider patterns of segregation and ways to reduce it in their zoning and planning decisions – faces as many obstacles as a poor black family looking for affordable housing in one of America's wealthiest suburbs.
Congressional Republicans are refusing to fund the effort.
Fair housing advocates, while praising the plan, say that much more needs to be done on the local level to stop the ongoing resegregation of neighborhoods into black and white.