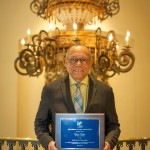 Taylor named to UAA Service Honor Roll
Henry Louis Taylor, Jr., PhD, professor of urban and regional planning, is among a distinguished group of individuals being inducted into the Service Honor Roll of the Urban Affairs Association, an international professional organization for urban scholars, researchers, and public service professionals.
The honor roll recognizes individuals for their commitment, intellect and energy in service to the organization, which is dedicated to creating interdisciplinary spaces for intellectual and practical discussions about urban life.
Taylor, who is also founding director of the Center for Urban Studies, served on the board of UAA from 1995 to 2001, three years of which he served as chairman of the Membership Committee. In 2000, he conceived and developed TheCyberhood.net as a virtual commons for students, scholars, practitioners and activists concerned about cities and their metropolitan regions. The site, co-sponsored by the Urban Affairs Association and the Center for Urban Studies, has emerged as one of the top academic websites in the nation and attracts visitors from around the world.
"It is a humbling experience to be honored by the Urban Affairs Association, the nation's premiere urban studies organization," says Taylor. "As a historian and urban planner, you engage in activities designed to improve the plight of marginalized groups, especially blacks and people of color, including the building of organizations and institutions that are devoted to producing knowledge and solving the wicked problems confronting society. You do what you do without thinking about rewards or awards.  So, when they happen, you are surprised and humbled."
Taylor was selected along with 12 other Honor Roll inductees by a unanimous vote of the association's Governing Board. Other honorees include urban affairs scholars from disciplines as diverse as urban and regional planning, geography and political science, as well as a civil rights activist and economist being recognized posthumously.
Taylor was inducted into the Honor Roll at the UAA's annual conference in March 2014 in San Antonio.