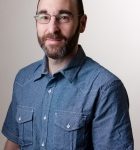 UB's Silverman Elected Chair of Urban Affairs Association Governing Board
David J. Hill
Publication Year: 2017
Re-Post From UB News Center
BUFFALO, N.Y. – Robert Silverman, professor of urban planning at the University at Buffalo, has been elected chair of the Urban Affairs Association (UAA) Governing Board. UAA is the international professional organization for urban scholars, researchers and public service professionals.
UAA includes more than 700 institutional, individual and student members from colleges and universities throughout North America, South America, Europe, Africa, Australia and Asia.
UAA's Governing Board comprises 15 members who are nominated and elected by members of the association to serve three-year terms. Silverman is entering his second term on the Governing Board and first as chair.
He is the first UB professor to be elected board chair. Three other UB faculty members have served previously on the UAA board: Kathryn Foster (2002-2005), Henry Louis Taylor (1995-1999) and William Lobbins (1981-82).
"UAA is fortunate to have Dr. Silverman play this important leadership role. He brings to the position years of experience within the organization, and his extensive knowledge as an accomplished urban scholar," said UAA Executive Director Margaret Wilder.
Among its activities, UAA sponsors the Journal of Urban Affairs, a refereed annual journal that publishes manuscripts related to urban research and policy analysis of interest to both scholars and practitioners.
The Urban Affairs Association also holds an international conference each spring in an urban center. The conference program features both topics of institutional concern and those related to urban issues from local, national and cross-national perspectives.
"It was an honor being elected chair of the Governing Board, and it is exciting to serve in this role during the year that the UAA conference is being held in Toronto, which is one of the most dynamic cities in North America and our neighbor to the north," said Silverman.
The UAA was founded in Boston in 1969 as the Council of University Institutes for Urban Affairs. The name was changed to the Urban Affairs Association in 1981.
Silverman's current research projects include studies of non-profit organizations, anchor institutions, inner-city schools and fair housing. Silverman is interviewed regularly by media outlets, including The Christian Science Monitor, Next City, The New York Times and The Washington Post, for his insight on fair housing policies and practices.